FP Smart Work & Task makes it easy

Digitalisation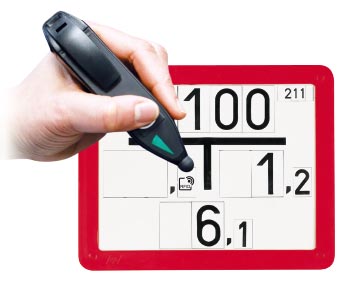 By utilizing FP Smart Work & Task, you can digitalise your maintenance processes in a simple way, whilst at the same time improving both quality and efficiency.
So how does it work? You keep on using your existing infrastructure with FP signs, just replacing one blank insert in each sign with an RFID transponder insert. You can then utilise FP Smart & Work to display all of your maintenance tasks digitally and to process them on site via the mobile app. The RFID transponder is allocated directly to a valve, a sluice or a hydrant with a unique identifier. The FP indicator sign serves as the carrier of the information, and the data can be read and processed on site. That means that the documentary evidence that the maintenance tasks have been carried out is unambiguous and tamper-proof.
RFID data can be read using the FP Reading Pen or using compatible smartphones, laptops or tablets. In addition, any readily-available reading devices can be used if they have been correctly configured. In this way, you can keep the required outlay to a minimum.
FP Smart Work & Task

The Advantages
Unambiguous and reliable: log-in on site via RFID
The system works offline, data can be transferred to the database later (data privacy assured)
Reliable and paperless documentation
Optimised deployment planning
Existing systems can still be used (signs and reading devices)
The FP Reading Pen can be used for device-independent reading
The system can be extended to other pipeline networks, properties or constructions etc. at any time
Data is securely stored in the RFID chip for 50 years
Easy to follow and clearly structured: tasks in map view or list view.

For more clarity: photo documentation of neuralgic network elements. Photos are automatically attached to the tasks.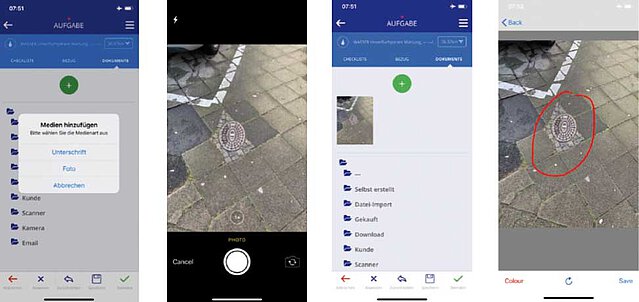 Really easy: mobile processing of on-site data.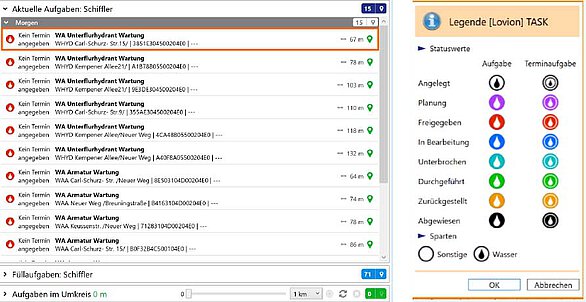 Optimal: GIS integration of valves, plants or components with unique ID.

Perfectly prepared with FP: Identification Marking 4.0
Using intelligent enhancements such as RFID transponders, the FP identification marking systems facilitate the easy, fast and cost-effective linking of existing information systems. That means that public utilities, municipalities and industrial enterprises can implement a digitalisation of identification marking for networks and pipelines in a few small steps.
In our current product information in the download area, you can find further information about FP Smart Work & Task.